In this Season of Thanks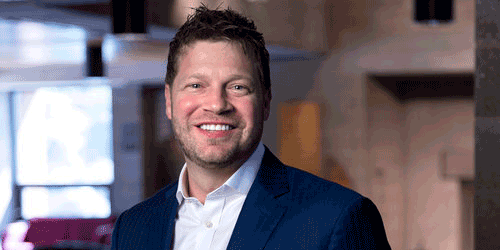 You might recognize the name J.T. Starzecki, who was featured in a piece about planned giving in the most recent issue of Saint John's Magazine.
J.T., a 1996 SJU graduate, explained why he made a provision for Saint John's in his estate plan. Because of his young age, we thought it was a compelling story.
For many years since college, J.T. has played vital leadership roles for his class - class representative, class volunteer, class Fellows Chair. He helped pull classmates together for reunions and set a great example regarding philanthropy to SJU. He also has attended several McNeely Center events, SJU alumni golf outings and SJU Standups, and he gets back to campus as often as his busy schedule allows.
What is it about Saint John's that inspires him?
"If you look at where you are today - career, family, friends - it's a thread that connects back to SJU and CSB," he said.
Growing up in a working-class family, J.T. appreciated early that without the help from a previous generation of Johnnies he may very well not been able to attend SJU or have the life he leads today.
Soon after he arrived at Saint John's, the accounting major - now young global executive - mindfully asked himself "what can I do every day to make this experience special?"
He also thinks back to the "greatest" Johnnies he knows and wonders how things might have been different if they wouldn't have been able to come to SJU because of the lack of financial support.
"If my planned gift allows those next greatest Johnnies to come," Starzecki said, "I am grateful to carry on the legacy."
As chief marketing officer for Sirius Minerals PLC in the United Kingdom, Starzecki works and travels abroad frequently.
He attributes his strong business network and foundational relationships to SJU - in fact, he credits three pivotal career moves to Johnnie alumni connections.
Back in the states, when he hosted a housewarming party, more than 35 friends CSB/SJU showed up to celebrate.
"This is a testament to lasting friendships," he said. "My only regret during my time at SJU was the people I didn't get to know during my four years."
J.T. also organizes an annual golf trip for a dozen or more friends of his, most of them Johnnies. The non-Johnnies in that group have become adopted Johnnies because of the unique and palpable camaraderie shared during those weekends.
Starzecki, godfather to sons of three Johnnie friends, said for him it's not about paying it back but going forward and providing someone else the opportunity and memories he wouldn't trade for anything.
"Carrying on the legacy is an opportunity," he said. "You may never meet the people who indirectly helped to make this experience possible, but the impact is still significant."
In this season of Thanksgiving, I am grateful for passionate Johnnies like J.T. Starzecki.